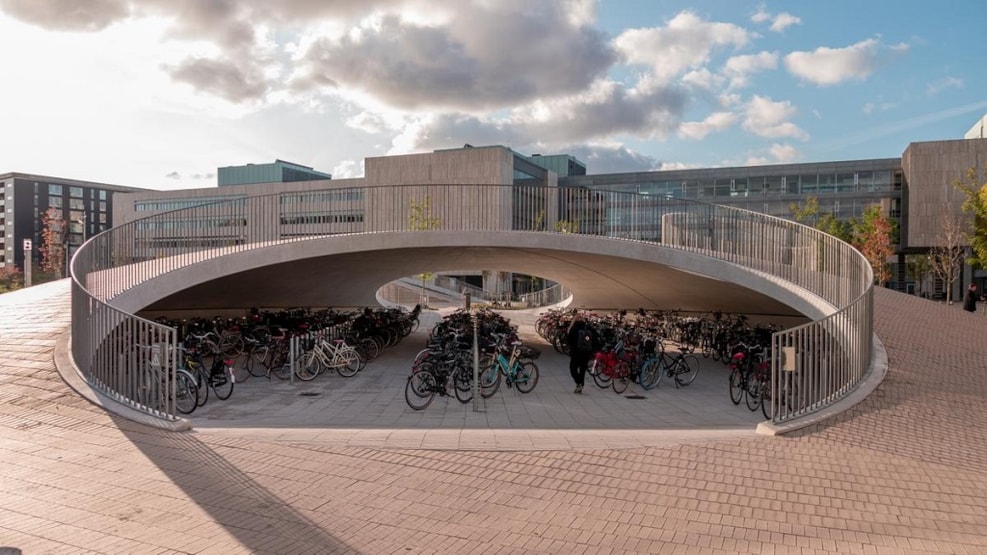 Karen Blixens Plads
Located in the centre of the University of Copenhagen's South Campus in Amager you will find Karen Blixen's Plads. After a complete makeover in 2019 by hotshot Copenhagen architect COBE, the square has become an inclusive urban space with room for both bikes, nature and people.
With it's 20,000 m2 Karen Blixen's Plads is one of the biggest public squares in the city. The old version of the square was boring, grey, and didn't fulfil the needs of the University of Copenhagen. After the complete COBE redo, Karen Blixen's Plads has become a three-dimensional student hangout. It now works as a park that melts together with Amager Fælled, a public space for everyone to enjoy and bicycle parking spot for the students with room for no less than 2,000 bikes.
The bicycle parking, or the bicycle hills as one might call them, is the real star of this new urban space. COBE describe their bespoke solution as a floating carpet, that one can walk across or sit down and relax on.
At night the caves under the rolling bicycle hills are lit up like lanterns, creating a cosy and safe environment at Karen Blixen's Plads.